Victoria's Secret introduces its newest fragrance, Bombshell Paradise Eau de Parfum a beachy tropical scent that smells like summer in paradise. The new fragrance is an update to the original Victoria's Secret Bombshell inspired by glamorous summers in St. Tropez.
Victoria's Secret fragrance description says, "Bombshell is summering in paradise—and we captured it in scent. It opens with a bright hit of Grapefruit and Black Currant. Tropical Lily of the Valley and radiant woods add the warmth of the sun. Sunstruck Pine—key in our original Bombshell scent—is a breath of fresh air."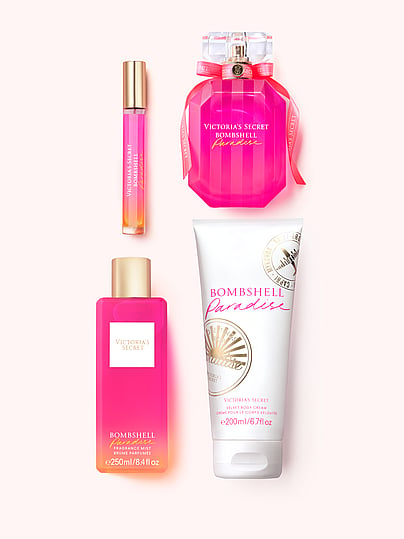 The Victoria's Secret Bombshell Paradise Collection includes:
Eau de Parfum: the most concentrated, pure version of the fragrance
Fragrance Mist: refreshing, hint of fragrance
Velvet Body Cream: rich cream with shea and cocoa butters infused with fragrance
Rollerball: travel friendly eau de parfum
View the whole collection and shop the limited edition Bombshell Paradise fragrance now at Victoria's Secret.
This entry was posted on Wednesday, June 12th, 2019 at 10:36 pm and is filed under Fashion, Perfumes & Makeup.
Both comments and pings are currently closed.