The new Deborah Lippmann Hyper Vibes Summer '18 Collection is here! "Step into an alternate universe and fashion your own vision of the future with the new Hyper Vibes summer collection," says the Deborah Lippmann description.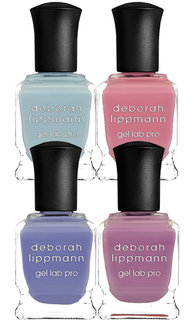 The Hyper Vives Gel Lab Pro colors are:
Baby Blue Eyes: full coverage light blue creme
Can't Stop the Feeling!: full coverage pale coral creme
A Wink And A Smile: full coverage periwinkle
Wild Orchid: full coverage lilac pink creme
Deborah Lippman offers a healthy alternative to gel polish with the Gel Lap Pro colors that don't requires lamps and won't damage your nails. They can also be used with any base or top coat and can be removed with any polish remover instead of harsh soaking.
The Hyper Vibes summer '18 collection is available to shop now at Deborah Lippmann, and your manicures will be sending out all the good vibes!
This entry was posted on Thursday, May 31st, 2018 at 8:25 pm and is filed under Fashion, Perfumes & Makeup.
Both comments and pings are currently closed.